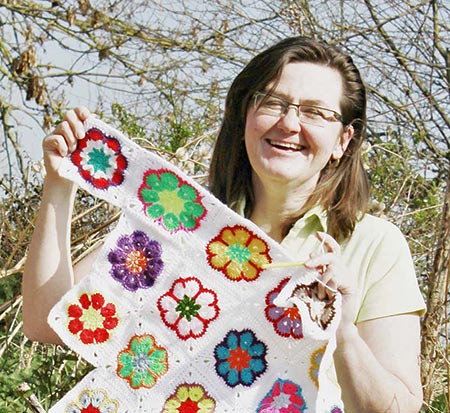 In the last millennium, I learned the profession of a typesetter. In the second year of my education, I started self-employment as a typographer, graphic designer and illustrator.
Since 1991 I am self-employed full time. I write and illustrate several children's magazines in the area of children's marketing for the Green Industry. For the children's book series »Poppi Book« I've written and illustrated several issues
My own passion is the theme of needlework; in my early childhood, grandma and mom taught me how to knit and crochet. I've been doing both since and sometimes combine both knitting and crocheting in one project. Only much later in adulthood came the embroidering.
Through a fortunate coincidence, I have been designing since the year 2000 using embroidery and crochet models for the design studio Coats. These are published in Europe and also appear in various magazines and handmade books. For some time now I have been creating my own instructions and expelling them in direct sales.
Since 2013 I have also been creating my own handicraft manuals and selling them directly. For the publication of my first book "Wollige Hamster" in November 2016 I founded BLUMENBUNT Verlag. In October 2017 the second title "Meine kleine Plapperpuppe" was published. I hope that many more handicraft books will appear in my publishing house.
I'm glad you like my artwork. All illustrations and graphics are created by myself - I am a typesetter by trade and work as a freelance illustrator.
I am a mom of two boys, I play tenor saxophone, and as a beekeeper I am mistress of several colonies.